Breakfast Restaurant in Barcelona & Madrid
Breakfast restaurant in Eixample area of Barcelona
Breakfast restaurant in La Latina area of Madrid
Carrer de Concell De Cents, 378. Call 930 24 7539 for reservation
Moreria 11. Madrid Call 611 151 030 for reservation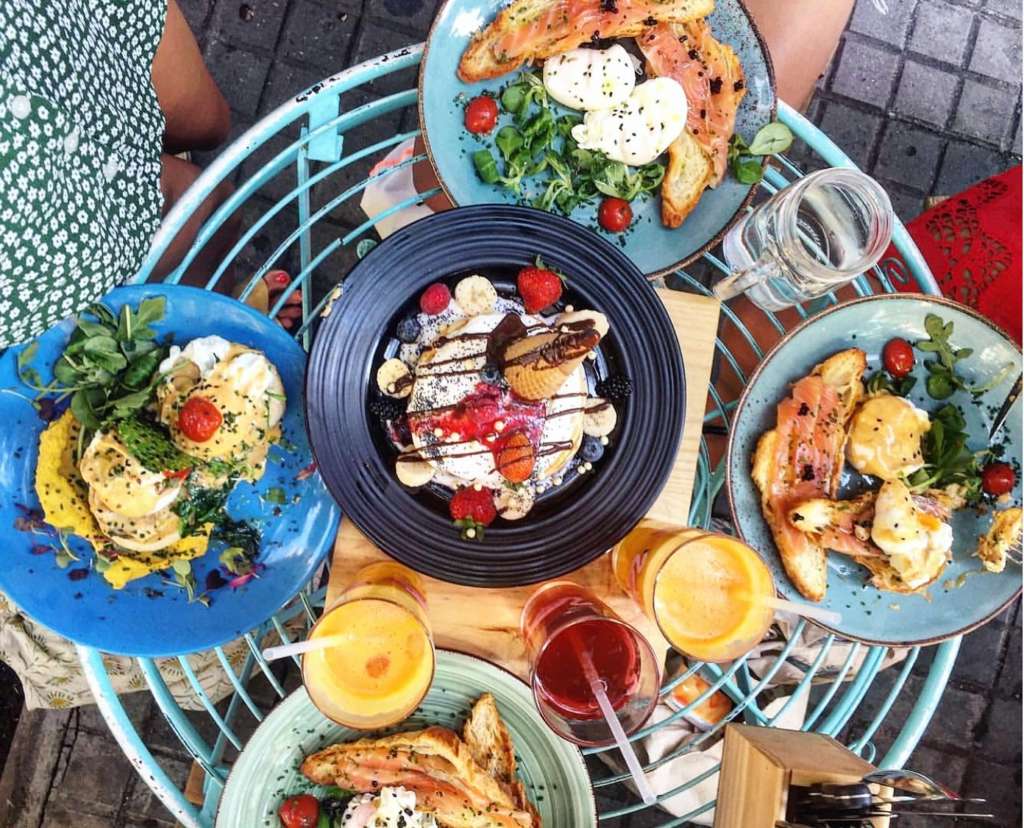 The best restaurant to eat Breakfast in Barcelona & Madrid
One of the recent summer days we were honored to host one of the most influential foodie bloggers of Barcelona @Barcelonafoodexperience in our EatMyTrip breakfast restaurant in the center of Barcelona. We are very happy to share with you her article "The 34 Best Brunches in Barcelona" where she kindly mentioned us in a list of the best places to eat breakfast in Barcelona.
"For the owner, Genia EatMyTrip has been a dream already for some time, and now she has made it come true! Everything in her beautiful cafe has been carefully made by hand and with a lot of love. The menu draws inspiration from her many trips to different corners around the world. She has so much creativity and you can really see it in the crazy cool dishes here!
I'm always equally excited to see their menu: every time there are fun surprises and things you can't find anywhere else. And the presentation is the coolest ever! They have recently changed their menu and introduced even more interesting items like BBQ waffles (yummm!) and Vareniki, a fun Russian brunch plate that consists of tasty dumpling filled with blueberries or cherries and served with coconut chia pudding, fresh berries and toasted almonds.
Their Thai Eggs look absolutely gorgeous, and the French Toast (the presentation is INSANE!) and the Eat My Trip bananas are perfect for satisfying that sweet tooth. And the coffee is excellent: sourced from coffee geniuses SlowMov. Make sure you try the colourful wellness lattes like the goji berry wellness latte above (pretty cool huh?), and keep your eyes out for the weekly specials.
Everything is so elaborated and beautifully decorated. I'm a big fan of places that put effort into their dishes! You can also ask for items to go, for example smoothie bowls if you need breakfast or a (very filling) snack. It's also great for vegans with dishes that are everything but boring like the Vegan EatMyTrip Banana bread ice-cream sandwich (I mean just the name is amazing..!)
The space is very cosy with murals on the walls, plants, and lots of details here and there, and it all invites to linger for a while. EatMyTrip breakfast restaurant is a true labour of love, and I'm very happy to see such a wonderful addition to the Barcelona brunch scene!"
Come and try everything we prepared for you in EatMyTrip breakfast restaurant and get this unforgettable foodie experience! We are located in the heart of Eixample district right next to Girona metro station. In walking distance from El Born and such prominent places as Casa Batllo and Sagrada Familia
The Best place for brunch in Barcelona
The tastiest place for Breakfast in Eixample
English breakfast all day long
Typical breakfast meals
Place to eat for early birds
Sweet and Savoury menu